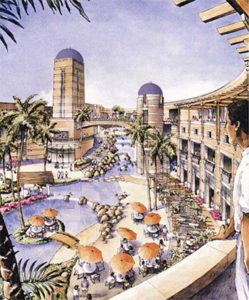 The property is located in Cabo San Lucas in Baja California Sur, Mexico. This proposed master-planned adult entertainment resort sits on 10 hectares. The property will be serviced from adjacent city water, sewage, and electricity.
The master plan has been approved by all local governmental agencies. It is designed as a virtual city within a city. The project will be designed with a traditional Mexican atmosphere with a heavy accent on traditional architecture, tropical landscaping, and waterscapes, taking advantage of the spectacular views of the ocean and the city of Cabo San Lucas. The overall project is divided into different phases. The first phase should include no less than 12 to 15 adult clubs. In addition, it will include medical and police facilities, a full security development, which will provide for a safe atmosphere for all activities, and will be marketed as an adult theme resort (no children). The remaining phases will be planned around a 400-room four-star timeshare hotel, a four-star 220-room motel, over 200,000 sq. ft. of commercial buildings, including clubs, restaurants, jewelry stores, clothing stores, markets, banks, etc., will be housed with a state-of-the-art entertainment amphitheater. In addition, multiple story condominiums with golf course and ocean views will be available.
Client: Cabo Paradise Corporation, S. de R.L. de C.V.